To help you on your wellness journey, sign up for your weekly wellness tip and receive a free healthy recipe as a thank you!

email:

powered by EZezine

home
tips archive
weblog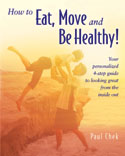 How to Eat, Move, and Be Healthy By Paul Chek
This is a comprehensive yet easy to read book on holistic health which you can use to personalize your own health plan. Learn the impact of your food choices on your wellbeing, how best to exercise depending on the state of your current health, how stress effects your health, how the time you get to bed impacts your hormones and your health, as well as how to tell if your digestive system is healthy.

As A Man Thinketh by James Allen
Allen's practical philosophy of successful living has awakened millions to discovery and perception of the truth that "they themselves are makers of themselves". Building on the Bible verse "As a man thinketh, so he is", Allen insists that it is within the power of each person to form his own character and create his own happiness.


Mind Power Into the 21st Century by John Kehoe
In this book John Kehoe explains how wanting success will not make you successful if you spend your day thinking about how unsuccessful you are, and how you always mess up. He then goes on to give you practical ways in which to harness your mind to create the kind of life you want through visualization, seeding, affirmations, imprinting and how to pay attention to your intuition and dreams. Through your thoughts, you can change your beliefs, which will change your life. This is an excellent book written in an easy to understand language.


The Magic Of Thinking Big by David Schwartz
The Magic Of Thinking Big gives you useful methods, not empty promises. Dr. Schwartz presents a carefully designed program for getting the most out of your job, marriage and family life, and your community. He proves that you don't need to be an intellectual or have innate talent to attain great success and satisfaction -- but you do need to larn and understand the habit of thinking and behaving in ways that will get you there. This book gives you those secrets.


The Power of Your Subconsious Mind by Joseph Murphy
Why do some people seem to effortlessly have it all--success, esteem, prosperity--while others struggle to barely scrape by? In the view of Joseph Murphy, a renowned authority on mental dynamics, the difference comes down to ingrained habits of thinking. This classic guide provides down-to-earth, easy-to-practice techniques, and the vital inspiration, to break free of hindering notions and emotions, and unleash the formidable might of our own minds.


The Luck Factor by Richard Wiseman
Ten years ago Wiseman decided to search for the elusive luck factor. Instead of accepting previous assumptions about genes, upbringing, intelligence, skill and personality, he went directly to the source--analyzing beliefs and experiences of lucky and unlucky people. A national media appeal helped Wiseman and his research team attract a pool of 400 volunteers willing to put their lives under the microscope for three years. The results? A radical new way to look at luck. It turns out that the lucky people in his study were actually creating their own good luck through their mental attitudes and behaviour.