Drink
drink resources
drink websites
How much water should you drink?
Tap, filtered or bottled?
Remineralize Your Water
Plastic Water Bottles
Water, our critical solvent
Water Fluoridation; boon or bane?
When to drink water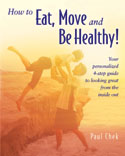 How to Eat, Move, and Be Healthy By Paul Chek
This is a comprehensive yet easy to read book on holistic health which you can use to personalize your own health plan. Learn the impact of your food choices on your wellbeing, how best to exercise depending on the state of your current health, how stress effects your health, how the time you get to bed impacts your hormones and your health, as well as how to tell if your digestive system is healthy.

Your Body's Many Cries for Water by Dr. Fereydoon Batmanghelidj

As a result of extensive research into the role of water in the body, the author, a medical doctor, believes that he has found chronic dehydration to be the cause of many conditions including asthma, allergies, arthritis, angina, migraine headaches, hypertension, raised cholesterol .... A dry mouth is not a reliable indicator of your body's water needs. He describes a variety of more reliable ones, and helps you learn to understand when your body is calling for water.