To help you on your wellness journey, sign up for your weekly wellness tip and receive a free healthy recipe as a thank you!

email:

powered by EZezine

home
tips archive
about Vreni Gurd

think


breathe

drink

eat

sleep

other
HLC Resources
Exercise
exercise resources
exercise websites
Our bodies are meant to move!
S-T-R-E-T-C-H and feel better!
Take your space and improve your posture
Resistance Training
Want fat loss? Aerobic exercise alone is not the answer.
The fabulous stability ball
Heart-rate training
Use your Power, and the Elixir of Youth
How often, how long, how hard?
Exercise - Staying Motivated
The autonomic nervous system and fat loss
Walking, sacroiliac dysfunction and hip pain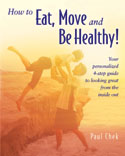 How to Eat, Move, and Be Healthy By Paul Chek
This is a comprehensive yet easy to read book on holistic health which you can use to personalize your own health plan. Learn the impact of your food choices on your wellbeing, how best to exercise depending on the state of your current health, how stress effects your health, how the time you get to bed impacts your hormones and your health, as well as how to tell if your digestive system is healthy. Top Pick!

The Golf Biomechanic's Manual - Whole in One Golf Conditioning by Paul Chek
Even if golf is not your thing, this book is worth its weight in gold. Learn why good posture is vital to sport performance. Learn how to assess your own range of motion about your joints, how to put together a targeted stretch routine, and how to design an exercise program, starting with stability and progressing to strength and power, using functional exercises that translate into improved sports performance. And if you do want to improve your golf game, this book will help you improve the most important part of your game - you! Top Pick!