To help you on your wellness journey, sign up for your weekly wellness tip and receive a free healthy recipe as a thank you!

email:

powered by EZezine

home
tips archive
about Vreni

think


breathe

drink

eat


exercise

other
HLC Resources
Sleep
sleep resources
"Early to bed, early to rise, makes a man healthy ..."
The dark of the matter
Is going to bed too late making you fat?
Pillow Fungus
Light Pollution Messes With Your Hormones
Breast / Prostate Cancer Prevention
Melatonin, our rest and repair hormone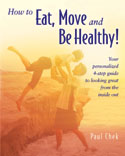 How to Eat, Move, and Be Healthy By Paul Chek
This is a comprehensive yet easy to read book on holistic health which you can use to personalize your own health plan. Learn the impact of your food choices on your wellbeing, how best to exercise depending on the state of your current health, how stress effects your health, how the time you get to bed impacts your hormones and your health, as well as how to tell if your digestive system is healthy.


Lights Out! by Formby & Wiley
This fascinating, thought-provoking study discusses the central role of sleep in our lives. After probing the scientific literature, Wiley and Formby, researchers at the Sansum Medical Research Institute, conclude that "the distastrous slide in the health of the American people corresponds to the increase in light-generating night activities and the carbohydrate consumption that follows." They support their arguments with 100 pages of notes and by tracing the progression of disease from hunter-gatherers to our high-tech society.