To help you on your wellness journey, sign up for your weekly wellness tip and receive a free healthy recipe as a thank you!

email:

powered by
EZezine
home
tips archive
about Vreni Gurd
weblog
Amazon.ca
Amazon.com
Chapters/Indigo.ca
Chekinstitute.com

Holistic Lifestyle Resources

think resources &nbsp &nbsp &nbsp &nbsp &nbsp useful links
breathe resources
drink resources
eat resources
sleep resources
exercise resources
environment/soil/organic farming resources
detoxificaton
dentistry
disease resources
women's health
other resources
back to top

Coming to our Senses by John Kabot Zinn
To deal with what seems like ever increasing levels of stress, people are turning to meditative type activities for relief. Dr. Zabot Zinn shares how mindfulness can powerfully impact our lives.


The Power of Your Subconscious Mind by Joseph Murphy
Why do some people seem to effortlessly have it all--success, esteem, prosperity--while others struggle to barely scrape by? In the view of Joseph Murphy, a renowned authority on mental dynamics, the difference comes down to ingrained habits of thinking. This classic guide provides down-to-earth, easy-to-practice techniques, and the vital inspiration, to break free of hindering notions and emotions, and unleash the formidable might of our own minds.

Molecules Of Emotion by Candace Pert
Molecules Of Emotion is a landmark work full of insight and wisdom and possessing the rare power to change the way we see the world and ourselves. Pert's striking conclusion that it is our emotions and their biological components that establish the crucial link between mind and body does not, however, serve to repudiate modern medicine's gains; rather, her findings complement existing techniques by offering a new scientific understanding of the power of our minds and our feelings to affect our health and well-being.



Seeing Life Through New Eyes by Paul Brenner
Guiding readers through a series of questions about their parents, the authors identify formative "gifts" and "hurts" that shape how people approach relationships. Combining clear text with a workbook format, this interactive book helps readers reclaim wholeness by transcending self-imposed limitations.


The Tao of Natural Breathing by Dennis Lewis

Learn how whole-body breathing can reduce stress, improve health, and promote personal growth.


The Art of Breathing by Nancy Zi

Learn the art of breathing in six lessons and improve your health and energy. Strengthen your singing or speaking voice with these exercises.


Science of Breath by Rama, Ballentine and Hymes
For thousands of years, yogic adepts have claimed that breath is the essential link between body and mind, energizing a subtle body which connects the physical and mental aspects of our being. In this landmark book, Swami Rama and two noted American physicians explore the science of breath as the missing key to both physical health and the attainment of higher states of consciousness. Basic yogic breathing techniques are explained so that we can immediately begin working with this powerful ancient science.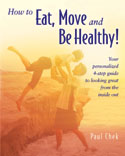 How to Eat, Move, and Be Healthy By Paul Chek
This is a comprehensive yet easy to read book on holistic health which you can use to personalize your own health plan. Learn the impact of your food choices on your wellbeing, how best to exercise depending on the state of your current health, how stress effects your health, how the time you get to bed impacts your hormones and your health, as well as how to tell if your digestive system is healthy. Top Pick!


You Are What You Eat CD Version By Paul Chek
In this informal discussion, Paul Chek talks about the importance of making good food choices, and issues to consider, such as organic vs. commercially raised foods, cooked vs. raw, genetically modified foods, irradiation, processed foods, packaging, pros and cons of grains, fats and oils, alcohol, dairy, animal products, eggs and seafood, sugar, salt, water, microwave ovens and much more. Top Pick!